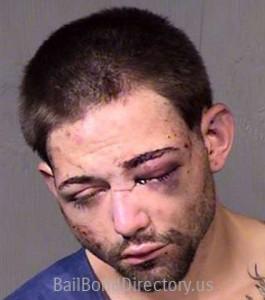 Two Bail Bondsmen identified as David Brickert, 37, and Wesley Kampen, 39, of Sanctuary Bail Bonds were shot by an unknown man as they tried to take Anthony Brian Giunta into custody, said Phoenix Police.
The two bail bondsmen were trying to take 25-year-old Giunta into custody after he skipped on bail. A struggle broke out inside the house. Giunta eventually was handcuffed and brought outside.
That's when a second man emerged and fatally shot the victims. Guinta and the shooter fled the scene, but hours later Guinta was arrested. He was being held on suspicion of misconduct with a weapon, aggravated assault and resisting arrest.
Giunta is being uncooperative with investigators and hasn't provided any information on the suspected shooter, described only as a white male between the ages of 25 and 35, and between 5 feet 6 inches and 5 feet 10 inches tall.