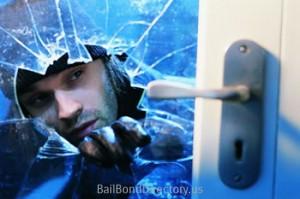 Jon Clennon, 37, is facing third-degree burglary charges for attempted burglary of a Winona County, Minnesota sheriff's home on Thursday night. Today the judge set bail and told Clennon to stay away from the victims' home.
Sheriff Dave Brand caught an alleged burglar at his own home following a frantic call from his wife alerting him to the man who broke a window and was trying to get into the house.
Clennon had walked by the sheriff's own squad car to enter the garage and steal the hammer used to smash the glass door. He wrestled the Clennon to the ground and held him until police arrived.
Report state that the suspect produced a breath-alcohol test of 0.33, more than four times the legal limit for driving. Clennon was taken to the hospital and then to a detox center in Rochester. He has been referred to the county attorney for charges of theft, possession of burglary tools, first degree burglary, third degree burglary, damage to property, disorderly conduct and obstructing the legal process.
Brand said he later discovered the man's backpack, toothbrush and cell phone near his workbench in the garage. It appeared as though Clennon had taken a hammer from the garage, then used it to smash through the window. He sustained several cuts to his hands and knee from the glass.
—–
Additional Details: WEAU 13 News