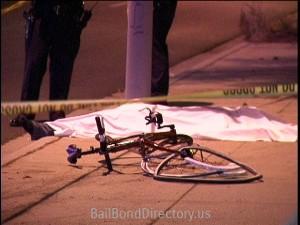 Los Angeles Police Department Valley Traffic Division detectives arrested two suspects in a fatal hit-and-run traffic collision that killed 17 year old bicyclist, German Alex Romero.
Romero was a senior at Chatsworth High School and would have graduated in June of this year. Romero and his friend were riding their bicycles, two months before his graduation, on April 20, 2011, at 9:00 pm, when Romero was struck and killed by a 2003 Toyota Corolla allegedly driven by Dominique Rush. Romero's friend was not injured.
The primary suspect, 23-year-old Dominique Rush, was arrested early Wednesday morning in Oxnard, California. Rush was booked at Van Nuys Police Station for Gross Vehicular Manslaughter and Felony Hit and Run with a bail bond of $100,000.
Rush's father, 44-year-old Steven Rush, was also arrested, facing charges relating to his involvement in helping Dominique conceal the crime after the fact. His bail is set at $20,000.
Through the efforts of the community leads and the media, Valley Traffic detectives were able to work this case from minimum leads resulting in the two arrests made Wednesday.
If anyone has additional information on this crime – please contact: LAPD Valley Traffic Division Detective Bustos at 818-644-8201. Anonymous tips can be called into Crime Stoppers at 800-222-TIPS (8477), or by texting 274637 (C-R-I-M-E-S) with a cell phone. All text messages should begin with the letters "LAPD." Online tips may be placed at LAPDOnline.org, click on "webtips" and follow the prompts.
—–
More Details: KTLA