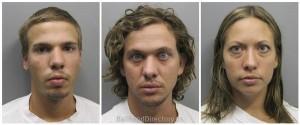 A Pueblo County judge set bond at $1.25 million each on Thursday for the "Dougherty gang" who were wanted for crimes in Florida and Georgia.
The two brothers and their older sister, who became known as the "Dougherty Gang," – Ryan Edward Dougherty, 21; Dylan Dougherty Stanley, 26; and Lee Grace Dougherty, 29 — had been targets of a week-long nationwide search until their capture Wednesday in southern Colorado, about 85 miles South of Colorado Springs.
The odyssey began Aug. 2 when the trio fired at least 20 shots at Zephyrhills, Florida, police officer Kevin Widner, who had tried to stop them for speeding, police said. Widner was uninjured; the other car got away when a shot flattened a tire on his patrol car.
The day before, Ryan Dougherty had been convicted of a sex offense involving a child and had texted his mother, "There's a time for all of us to die," according to police.
Police said the trio, wearing masks, robbed a bank in Valdosta, Georgia, 210 miles north of Zephyrhills, several hours after the Aug. 2 chase. Witnesses told police the robbers fired shots into the ceiling and instructed customers to lie on the floor. Security cameras show one robber with an assault rifle, another with a machine pistol, the FBI said.
The siblings now face charges of attempted murder of a police officer and assault on a police officer. The charges stem from allegations that they shot at authorities in Colorado.
—–
Story derived from CBS News